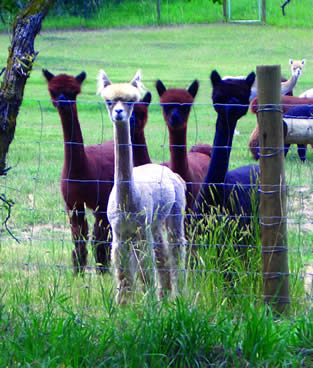 Yearling girls at the fence.
Foundation Females
Our foundation females are now with other farms, but we retained their sons for our Stud program. They were excellent mothers from outstanding stock, with an emphasis on the rare and proven genetics so necessary for hybrid vigor and robust crias.
Below is a tribute to the dams from Dundee's breeding program who produced and raised the champion males in our Stud Program.
To see more on the males these females raised, click the Studs and Males for sale link to the right.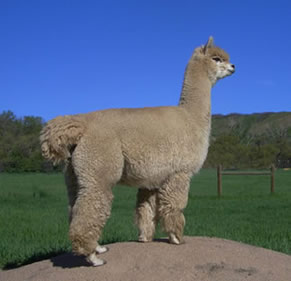 Pandemonium
Below: Dundee's The Rock
Pandemonium x Adrenalin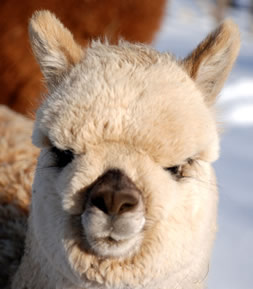 JFS Pandemonium Light Fawn
DOB 6/18/03
Dam: Derwydd Peruvian Muneca
Sire: MMR Pepano
Pandy was one of our best producing females. She was dense, dense, dense, and exceptionally fine. With a micron of 15.8, her fleece is soft and delicious. Pandy produced 6 crias of exceptional quality. She herself was 1/2 Canadian, bringing rare genetics to her off-spring.
In the fall of 2009, Pandy delivered an Adrenalin son, Dundee's The Rock, who is one of the best fawn's we have seen. This little show pony caught everyone's eye.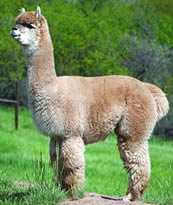 After his award winning show career, The Rock took his place in our Stud Row. Adrenalin, his sire, was out of star Canadian stock making The Rock 3/4 Canadian. He has crias on the ground now and they carry his fine, long, dense fiber.
Breeders choose The Rock because of his:
Fine, long, dense fleece with crimp throughout
Supurb structuralintegrity
Large bones, broad chest, and correct proportions
...and who could resist that head!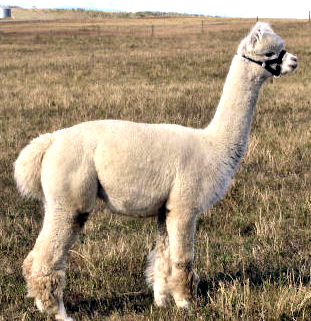 Aztec D'Anna
D'Arcy x Snappy
Below: Zamboni, her first cria
D'Anna x S. Artic Ice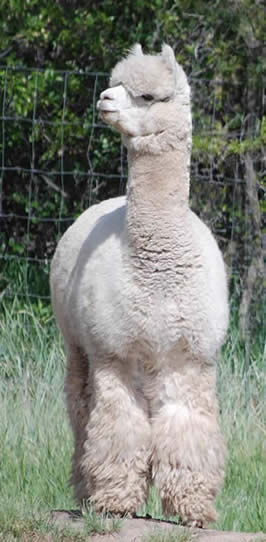 Aztec D'Anna White
DOB 6/03/05
Dam: PPPeruvian Snappy
Sire: RFA D'Arcy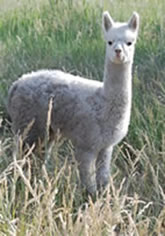 Dundee Farm is known for its color throughout the herd. But we just had to try one fabulous white, and so we bought D'Anna at the Canadian Futurity.D'Anna's dam, Snappy, was one of the best ever imported to Canada, and her sire was the brother of the impressive Super Sam. D'Anna's impressive pedigree (Alianza/Accoyo) caught our attention, and was the window to the rest of her qualities. Her sire, D'Arcy, is a full brother to Canadian star herdsire, Super Sam. We love D'Anna's overall look, balance, and conformation. She has dense bone on a solid frame covered in dense, soft fleece.
D'Anna came to us with her June 08 cria, Zamboni (below), a Snowmass's S Accoyo Artic Ice son now working in Europe. His three sib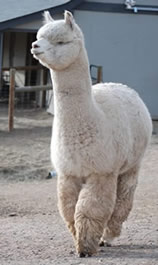 lings took 3 first places in the white classes at the Canadian Futurity and one became color champion. His son's also swept the Canadian Futurity in 2009. We had great expectations for this boy, who at a young age, was very promising.
Zamboni took his first white championship at 8 months over 53 impressive males. He then went on t0 pick up more blues and three more championships. His crias are robust, very fine, and carry his impressive frame. He counts several champions among his offspring.
Breeders choose Zamboni for:
Long, bright white fleece that is dense, dense, dense.
An impressive and rare genetic background for out-crossing.
Large bones, deep and broad chest, and perfect proportions.
Pure white background genetics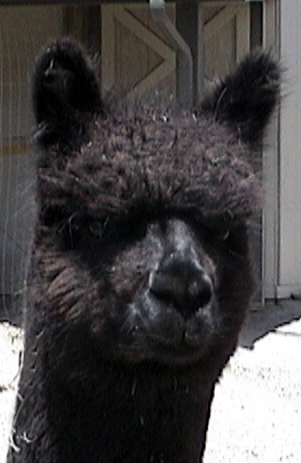 Beautiful Arabesque
Our first Champion who went on
to garner 3 more.
Stylish, jet black, and sultry, Arabesque - the dam of our four time champion Dundee's The Lad.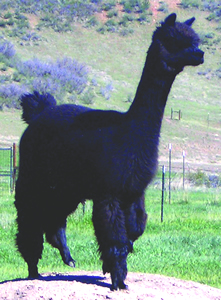 Dundee's Arabesque True Black
DOB 2/5/1999
Dam: Resada Marcella
Sire: 5Peruvian Chinchero
ARI: 821960
Absolutly one of the best alpacas from our breeding program, Arabesque was "practically perfect in every way." Her conformation was rock solid: balanced proportions with substantial bone, a capacious body that allowed easy birthing, beautiful head, straight legs. Her fleece was fine, soft, and consistent.
Arabesque was always calm, easy to handle, and a pleasant alpaca in every respect. We still miss her.
Her dam, a medium brown girl with a large frame and exceptional fleece, produced several champions. We bred her to Chinchero, a true black newly imported Peruvian of rare quality. With only a few crias on the ground at the time, we leased him, bringing him out west where he did 12 breedings. Chinchero was a compact male with large bones and jet black, fine, soft fleece. The resultant cria, Arabesque, was just what we were hoping for.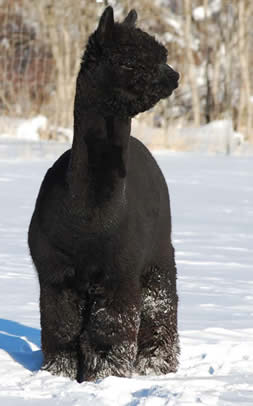 To reinforce her color, add density, and preserve her fineness, we bred Arabesque to Othello and she produced Dundee's The Lad. His sire, Othello - a champion producing black male - was compact, large boned, dense, and fine.
The Lad was an eye-catcher from the start and won the first of his four championships at his first show when he was a juvenile. He has gone on to produce champions and ribbon winners, and remains one of the best black breeding male in the region.
Above: Dundee's The Lad
Breeder's choose the Lad for his:
Structure and blackest of black fleece
Retained fine fleece - 20.0 microns at 8 years
Overall look and beautiful head
Calm, easy-going disposition
Most of his crias are black, a few brown, and one silver grey.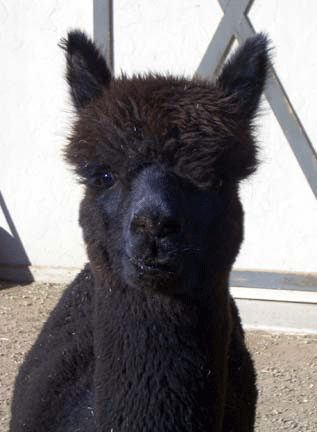 Above: Jacquiline Jaxon, Piper's Dam
Dundee's Arabesque x 6Peruvian Action Jaxon
Below: Piper having a fine time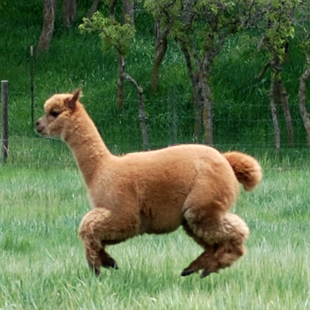 Dundee 's Jacqueline Jaxon True Black
DOB10/17/04
Dam: Dundee's Arabesque
Sire: CPeruvian Axtion Jaxon
Jackie combines two of the best black bloodlines: Axtion Jaxon and Chinchero. She is 7/8 Peruvian. Jackie placed second in her first show in a large class at the Great Western Alpaca Show. Subsequently, she placed first at Fall Festival, and 2nd in Topeka. She was part of the lineup that won Axtion Jaxon the coveted Get of Sire Award - very unusual for a black to win the Get.
Jackie's sire, Axtion Jaxon is one of the best black males ever imported. He came in utero in the last Peruvian import that came to North America. He is noted for extremely fine, consisten fleece that is very, very black. A multiple champion in both halter and fleece, AJ was also a consistent prod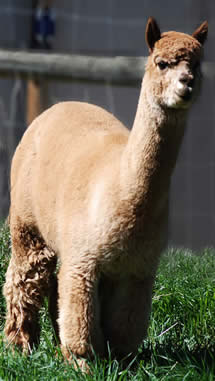 ucer of dark and black crias, even when bred to white.
Jackie has excellent conformation and dense fleece. She was bred to Augusto with the hopes of a dark cria from this pairing. The result was a beautiful dark fawn male with 16 micron fleece that is highly organized and dense, Dundee's Highland Piper.
Piper's solid butterscotch coloring goes from his head to his toes without fading. He is a large-boned macho with a robust frame. Piper's crias are generally his coloring, although he has also produced a white. They have done well in the show ring, including a 1st at GWAS, the largest show in the country.
Breeders choose Piper for his:
Dense, well organized, fine fleece
Zipper crimp and micron consistency
Large bones and structural integrity